We all need to warn the vulnerable: Government agencies don't take Bitcoin
Coquitlam
2019-11-08 08:12 PST
File # 2019-32792
Cryptocurrency machines vary greatly in appearance. This Port Coquitlam Bitcoin machine is well-marked and includes a warning about fraud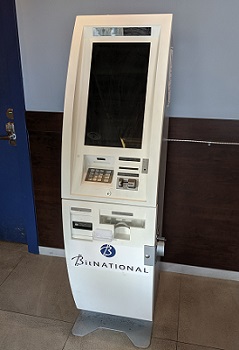 This Port Coquitlam cryptocurrency machine is not very well-marked and looks virtually identical to a bank machine
Telephone scams are on the rise again and Coquitlam RCMP is asking for your help to get the message to our most vulnerable.
You might be surprised to learn that the most common victims are college-age, new Canadians and elderly people of all backgrounds. As a community, we need to inform and protect our most vulnerable, says Corporal Michael McLaughlin with Coquitlam RCMP. From August to October we've seen 14 cases of telephone fraud involving Bitcoin. Total losses are over $66,000.00.
The latest trend is for criminals to claim they are from a government-type agency like Canada Revenue Agency, Service Canada, BC Hydro or the Department of Justice.
We've even had criminals claiming to be local RCMP, says Corporal McLaughlin. The best advice I can give is to get the basic details and then hang up. Take a few minutes to breathe, then talk to someone you trust before you do anything.
Here are more points to discuss with our most vulnerable:
Canada does not have magistrates: When fraudsters claim that a magistrate has issued a warrant, they are likely calling from jurisdictions like India. Accents can also be a giveaway,
You cannot be arrested in Canada for late payment of any kind.
Criminals rely on pressure and panic: Even a late payment can wait a day. If a government agency won't let you call back later, it's a scam,
You can't use Bitcoin to pay taxes or fines: No government agencies in BC accept Bitcoin, Google Play, Steam, iTunes or any other gift card. Money transfers to government are handled by major banks and come with a receipt,
'Cash machines' are red flags: If someone is willing to 'coach' you over the phone on how to use a 'cash machine', it's probably a cryptocurrency machine such as Bitcoin,
Don't send money (in any form) under pressure to someone you don't know.
This message needs to reach outside of your usual circle, says Corporal McLaughlin. Have a conversation with your elderly relatives, your friends and young adult new Canadians who might be vulnerable to these scams.

To report deceptive or suspicious telemarketing, call the Canadian Anti-Fraud Centre at 1-888-495-8501 or go to their website. If you've been a victim of fraud, call your police of jurisdiction. The Coquitlam RCMP non-emergency line is 604-945-1550.


Released by

Cpl. Michael McLaughlin

Media Relations Officer
Coquitlam RCMP
coquitlam.rcmp-grc.gc.ca (English only)
2986 Guildford Way, Coquitlam, BC V3B 7Y5
Office: 604-945-1580


Email: coquitlam_media@rcmp-grc.gc.ca

Follow Us: