Coquitlam RCMP team up with Surrey and Burnaby to arrest an alleged property crime offender
Coquitlam, Burnaby, Surrey
2020-10-19 09:21 PDT
File # 2020-27576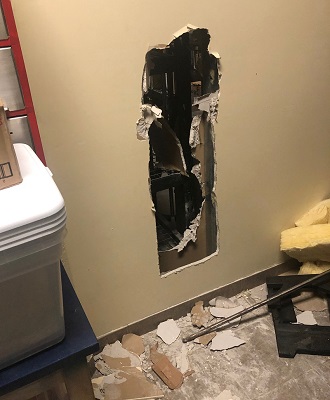 View a high-resolution photo: The tunnel cut through a wall to access adjacent commercial businesses
View a high-resolution photo: A large commercial safe stolen during a Break and Enter
View a high-resolution photo: A door lock that was drilled in order to break into a business
It took the combined efforts of the Coquitlam RCMP Prolific Target Team, Surrey RCMP Property Crime Target Team and the Burnaby RCMP Strike Force to take down an alleged property offender that tunnelled through businesses to commit crime.
Police began investigating on September 3, 2020, after several break and enters were reported to different agencies in the Lower Mainland. The suspects are believed to be responsible for a large number of offences that involved tunnelling through adjacent businesses to get inside. Police recognize that criminals work across the lower mainland regardless of city borders and we are willing to do the same in order to keep people and property safe, says Sergeant Keith Schendel with Coquitlam RCMP. Pooling resources and close communication between agencies helped us recognize the similarities in the offences and identify suspects.
After the primary suspect was identified, the Coquitlam RCMP Prolific Target Team made the arrests and then used search warrants to gather more evidence such as stolen commercial safes and tools used to commit multiple offences.
A 43-year-old man is facing several charges including:
Eight counts of Break and Enter,
One count of Possession of Break-in Instruments.
A 39-year-old woman is facing the following charges:
Two counts of Break and Enter
Constable Deanna Law of the Coquitlam RCMP states, A Break and enter can have an emotional and financial impact, but here are a few tips to help protect you from becoming a victim:
Illuminate as much of your property as possible,
Keep shrubbery cut back so it doesn't block windows and doors,
Secure any glass that is less than 100 cm from a door,
Use a fencing style that will not conceal a criminal's activities.
RCMP are reminding business owners to regularly check locks for drilling or damage, doors for evidence of prying and to ensure video surveillance is working properly. Always report suspicious behaviour or if you have been a victim of a crime, call your police of jurisdiction. The Coquitlam non-emergency line is 604-945-1550.

Released by
Constable Deanna Law
Media Relations Officer
Coquitlam RCMP
604-945-1580




Released by

Coquitlam RCMP Media Relations

Office: (604) 945-1580


Email: coquitlam_media@rcmp-grc.gc.ca

Follow Us: