Halloween Safety Info and Tips
When the ghosts, goblins and witches are out and about it can only mean one thing: Halloween. It also means the Coquitlam RCMP, volunteers and bike patrols from Community Police Stations, and By-law Officers will be out helping to make sure trick-or-treaters and party goers have a boorrific night!
Follow these safety tips from the Coquitlam RCMP to help you have a spooktacular and safe Halloween:
Fireworks and Firecrackers:
Is it allowed? Firecrackers cannot be used in Coquitlam or Port Coquitlam.
Do you have a permit? You can use fireworks on private property if you have a permit from your municipality. More firework information and information from the City of Coquitlam and the City of Port Coquitlam.
Fireworks aren't kids play: Each and every Halloween, an influx of children and adults end up at hospital emergency rooms for firework-associated injuries. Be extra careful when setting off fireworks.
Parents And Trick-Or-Treaters: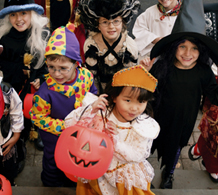 See and be seen: Make sure drivers can see you: wear reflective clothing or place reflective tape on the front and back of costumes and clothing. Make glow sticks part of your costume and carry a flashlight.
"Fake": Swords, knives and guns part of your costume? Make sure they look fake but remember, some people still may not be able to tell the difference.
Safety in numbers: Walk in groups and stay together.
Stay on the outside: Never enter a house; only accept treats at the front door.
Use crosswalks whenever possible: Visit houses on one side of the street at a time and cross the street only at intersections or at marked crosswalks.
Save your treats: Wait until you get home before sampling your treats. Though tampering is rare, a responsible adult should check out all treats and throw away any spoiled, unwrapped or suspicious items
Pets:
The bark isn't always worse than the bite: Stay away from animals you don't know.
Pets get frightened on Halloween: Put them inside to protect them from cars or inadvertently biting a trick-or-treater.

Drivers:
Expect the unexpected: slow down, look for pedestrians. The chances of getting into a serious or fatal collision are multiplied when there are lots of kids and teens out on the streets.
Excited kids about: Remember that there will be more foot traffic on Halloween night and that most of it will be excited young children so leave yourself extra time to navigate residential streets.
Halloween Party-Goers:
Plan your ride home: Don't drink and drive, with extra patrols on local streets you will get caught.
Don't drink & drive: If you are planning to drink, drink responsibly.
"Fake" Weapons in your costume? Choose fakes that look fake but always remember, not everyone can tell the difference.
For Everyone
If you SEE something, SAY something. Halloween is popular with criminals too. While you are out in your neighbourhood, keep your eyes open for criminal or suspicious activity, including arson, vandalism and property damage, and report what you see to the Coquitlam RCMP. In an emergency call 9-1-1, otherwise call our non-emergency line at 604-945-1550. We cannot follow up on crime reports submitted via email, text or social media. You can report some crime online.
Community Safety Tips