Drug trafficking investigation leads to multiple arrests in Port Coquitlam
Coquitlam
2021-01-21 07:53 PST
File # 2020-28580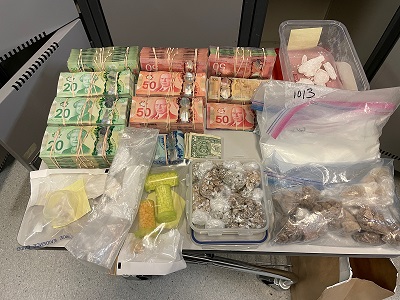 View a high-resolution photo: A photograph showing a large amount of cash and suspected drugs.
Coquitlam RCMP seized a large quantity of suspected drugs, cash and four vehicles totalling approximately 450,000 dollars during the execution of two search warrants that came from a drug trafficking investigation.
In the fall of 2020, Coquitlam RCMP's Uniform Crime Reduction Unit (UCRU) received several complaints of drug trafficking in Fox Park in Port Coquitlam. Through their investigation, they identified three key players: one male and two females. UCRU executed two search warrants at two different condominiums in Port Coquitlam just after 4:00 p.m. on January 19, 2021, where a 37-year-old man, 26-year-old female, and 59-year-old female were arrested. The investigation is in its early stages, once complete a comprehensive report to Crown Counsel will be forwarded to the Regional Prosecution Service for their review and charge approval consideration.
The evidence seized during the search included:
Approximately 100,000 dollars Canadian cash,
A large quantity of packaged suspected drugs,
250,000 dollars in luxury vehicles: 2018 Harley Davidson motorcycle, 2020 GMC Denali 3500 Truck, 2021 Lexus NX300 and a 2021 Mazda CX5.
The community of Port Coquitlam expressed concerns about the safety of Fox Park, and police formulated a plan, took action, executed search warrants and made arrests to make the park a safer place, states Constable Deanna Law, Coquitlam RCMP Media Relations Officer.

If you see anything suspicious in your neighbourhood, please call the Coquitlam non-emergency line at 604-945-1550. If you wish to remain anonymous and possibly collect a reward, call Crime Stoppers at 1-800-222-8477 or go to their website at www.solvecrime.ca

Released by:
Cst. Deanna Law
Media Relations Officer
Coquitlam RCMP
604-945-1580

Released by

Coquitlam RCMP Media Relations

Office: (604) 945-1580


Email: coquitlam_media@rcmp-grc.gc.ca

Follow Us: